Customer Reviews
Write a Review
Ask a Question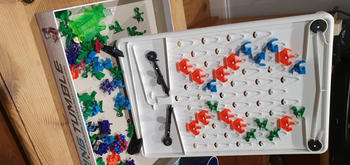 01/22/2021
Excellent
Bought it for my 11 yr old for Christmas. Well suited for his age and interest. He spends a lot of hours on it which is perfect to keep his brain working without being on a gadget or device.
MARIDA P.

United Kingdom
03/08/2021
Great product, excellent customer service
We are very pleased with this product. Our son is enjoying working through the challenges. They are engaging and challenging. We had a small issue with some pieces sticking, but the customer service was top notch. Definitely recommend!
Heather T.

United States
02/04/2021
Great Purchase!
The whole family has been having fun with this. It does have an issue with the back pieces getting in the way of the front pieces. We'll figure out a solution but this should be fixed before sending more out.
Teri F.

United States
02/02/2021
Extra parts for extra fun!
I bought these extra parts so he could take full advantage of the Tumble!
Kris R.

United States
09/30/2020
Great product!
These people truly care about their product. I was impressed with the email correspondence, always timely and empathetic. My students love our classroom Turing Tumbles.
Blair H.

United States
09/28/2020
Love it
Great tool for learning for the kids. 8 9 and 13. Will keep them occupied for a long time
Perry H.

United States
09/23/2020
Great customer service!
We had a few pieces missing from our Turing Tumble set. The customer service team responded right away and we received the pieces within days. Really fantastic, and we can't wait to build the computer!
Vanessa L.

United States
03/25/2020
Amazing!
My Granddaughter and I are having a ball with the challenges. Thanks for the STEM push for her.
Doug G.

Canada
02/17/2020
Mass production issues...?
I bought my son a Tumble for Christmas. A couple of the green ramps were sticking on some of the pins on the board (didn't seem to be the fault of the ramps as every ramp stuck on those pins) and a couple of orange cross-overs were firing the ball off the board. On hearing this, the Tumble people sent me this "extra-bits" pack with more of the ramps and cross-overs. Since then we haven't had the problem recur because the challenges we've been facing recently are using different pieces and different pins. While it is slightly frustrating to my son that we sometimes have to restart the run to prove it works, inevitably we get there. He's enjoying the story in the book and really getting the concepts presented - so mission accomplished. Honestly, it has been quite difficult to resist working ahead in the book (or just tinkering) when he isn't using it. Addictive fun.
Michael H.

Australia
02/16/2020
Excellent design, peerless support
Bought this for my son for the two of us to work through it. I am consistently impressed by the intentional, methodical, and brilliant design. It's a work of art for training the mind to think in algorithms.
Luke S.

United States