Customer Reviews
Write a Review
Ask a Question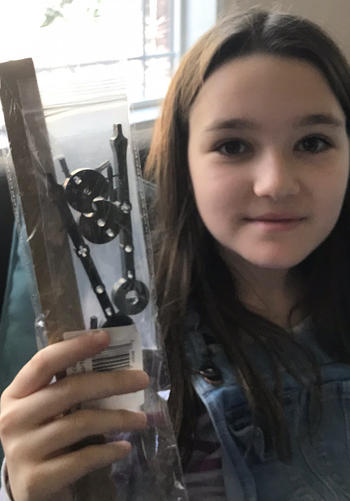 02/17/2020
I recommend this product
Great game and customer support
My daughter loves the game and enjoys the puzzles and challenges it presents. We also had a great experience with customer service in replacing a missing part. Thank you.
Jesse S.

United States
02/09/2021
I recommend this product
pretty good, but missing pieces
I got this for my 12 year old on Christmas. Pieces were missing, so we couldn't use it. I emailed the company and the pieces were sent, but the fact that the pieces were missing to start with detracted from the fun of the gift on Christmas Day. When we eventually did get the pieces and set up the game, it was more interesting to my college aged kids than to my 12 year old. The 12 year old did like like the enclosed manga styled comic book/instructions, but he found the first several puzzles "too easy" and did not continue. The older kids found more intrinsic interest in the product.
Rebecca W.

United States
02/08/2021
I recommend this product
Turing Tumble a Big Hit!
We purchased this wonderfully inventive product for our grandchildren a year ago. They have played with it -both with the instruction/puzzle instructions and without. When COVID restricted their interaction with friends, they were able to play together online with video - they live 2000 miles from each other. One of the components on a set began to hang up and not function properly. When I called the company to find out how to fix the problem, I was sent replacement parts free of charge! Who has ever heard recently of a company being so responsive! Impressive!
Marty M.

United States
02/02/2021
I recommend this product
Creative and wonderful STEM toy, Fabulous customer service
The Turing Tumble product is a complete imaginative and fabulous experience for my 9 year old grandson and the Turing Tumble staff helped enormously to get the product to us during the crazy holiday period, going way out of their way to assist with the process. Only wonderful things to say about the entire experience!
Rosalyn B.

United States
02/02/2021
I recommend this product
After the disappointment of finding important pieces missing from the original shipment, was very impressed at the speed and ease with which you sent them. Thank you. My nephew is still spending less time on his phone, since playing with turing tumble.
Lois j.

United States
08/25/2020
I recommend this product
It's...ok
It took ages to arrive, arrived with a vital piece missing that we then needed to reorder, and was of lesser quality than we expected. It's quite thin and plastic-y. My son liked it for a little while but it wasn't that great. Not sure about this one. The concept is good, the execution poor.
michelle k.

United States
01/17/2020
I recommend this product
Turning Tumbler
Awesome activity for a science-minder grandson!!
Judy J.

United States
01/14/2020
I recommend this product
Very good service
I'm very happy with it. I'm enjoy working with it. Your service is also very good.
Anja V.

Netherlands
01/09/2020
I recommend this product
Great Customer Service
After opening our Turing Tumble, we discovered we had several missing parts. I emailed the company at the provided email address in the owners manual and was given an apology along with a no hassle response. I was then promptly mailed the missing parts along with extra balls. Tracking information was also supplied. My son went from disappointment to really enjoying working through the challenges. The actual product seems expensive for the physical contents. However, the mental stimulation provided in the challenges is where the true value comes in.
Paul K.

United States